interviews 2019
Tasha
This week, Jim and Greg talk with Chicago singer, songwriter and guitarist Tasha. She was one of Greg's buried treasures after seeing her dazzle onstage at South By Southwest earlier this year. She released an EP in 2016 and her debut album, Alone At Last, came out last year. As a poet and activist, Tasha's music is a blend of soft sounds and tough truths embedded in the lyrics. Some of the themes she explores are as heavy as racial and gender inequality and as restorative as self care and rest. They talk with her about the latest album, her activism and what she does for self care.
Go to episode 712
Jody Rosen
Journalist Jody Rosen wrote an article called The Day the Music Burned for The New York Times Magazine a couple weeks ago that has musicians, fans and the music industry buzzing. In 2008, a fire ripped though a Universal Studios Hollywood warehouse. At the time, Universal Music Group (one of the largest record labels in the world) downplayed the fire, and it didn't get much media attention. However, Jody Rosen's extensive reporting has revealed a much larger tragedy. He found that hundreds of thousands of master tapes, or original music recordings, were lost from artists ranging from Billie Holiday to Nirvana. Jim and Greg talk to Jody about what was lost.
Go to episode 709
Soulless: The Case Against R. Kelly
One of the foundational tenets of Sound Opinions is that music is powerful and, in the best cases, music can save your life. We rarely talk about the flip side of a life saved by rock and roll on Sound Opinions, but the release of Jim's book Soulless: The Case Against R.Kelly, Jim and Greg thought it was time to examine one of those stories. In 19 years of investigating R. Kelly, Jim has found that Kelly used this same power of music for his own malevolent ends. Jim and Greg also discuss how music critics and journalists have played a part in minimizing R.Kelly's alleged misdeeds in the name of his talent. What obligation does the music community have to learn about the personal lives of musical heroes?
Go to episode 707
Mavis Staples
It's not often we get to share a room with a genuine national treasure. Jim and Greg were honored to speak with gospel and soul legend and Civil Rights icon Mavis Staples. (Greg is also the author of Mavis's 2014 biography I'll Take You There.) Beginning her career at age eleven as the lead singer of her family band The Staple Singers, Mavis has inspired countless artists over the past half century.
Her father Pops Staples learned guitar at the feet of Charley Patton in Dockery Farms, Mississippi before moving to Chicago. There, he formed The Staple Singers, a gospel vocal group featuring his children – Pervis, Cleotha, Yvonne, and Mavis taking the lead. The combination of Pops's blues guitar, Cleotha's counterpoint, and Mavis's precociously powerful voice launched them into national attention with their 1956 hit "Uncloudy Day." Soon, the Staple Singers were at the forefront of the Civil Rights Movement, often serving as the opening act to Martin Luther King, Jr. (We cover that period in more detail in a second episode with Mavis).
The group had its greatest success once it signed to Stax Records and began recording with the famed session musicians in Muscle Shoals, Alabama on hits like "I'll Take You There." That's also when Mavis began her solo career – reluctantly at first, but still going as strong as ever today. Her latest album Livin' on a High Note found her working with songwriters like Nick Cave, tUnE-yArDs, and Neko Case. Mavis offers Jim and Greg an intimate look at growing up on Chicago's South Side, forming the Staple Singers' signature sound, meeting Mahalia Jackson, and collaborating with Curtis Mayfield and Prince.
Go to episode 706
Ex Hex
Ex Hex is a trio who celebrate guitar rock, even 1980s albums by bands like Def Leppard and Poison, which is surprising if you consider the indie rock scene from which they sprang. Mary Timony was the singer and guitarist of Helium for much of the 1990s and before that the short-lived Autoclave. Both were groups that could almost be considered the exact opposite of arena rock. But, as she tells Jim and Greg, Timony heard bands like Van Halen with fresh ears when working as a guitar teacher after quitting music in her mid-30s. Students would ask to learn classic rock songs and in order to teach them, Timony would learn them, too. When members of Sleater Kinney and The Minders asked her to join the supergroup Wild Flag in 2010, she brought her new knowledge of guitar shredding with her: rolling on the floor and doing windmill guitar moves frequently while on tour.
When Wild Flag split up before doing a second album, Timony took the songs she'd already started and formed Ex Hex with Betsy Wright of Bat Fangs and drummer Laura Harris. Ex Hex takes that guitar hero aspect and turns it up to eleven. On their second album, It's Real, Ex Hex seems to be fully committed to this approach to music that would have been so at odds with Timony's early work. As our audience at the Goose Island Tap Room knows, the band is more concerned with making good, fun music than expressing deep angst.
Go to episode 705
Sharon Van Etten
Between 2009 and 2014 Sharon Van Etten released four critically-acclaimed albums full of songs addressing trauma, broken hearts and toxic relationships. Fans were responding and her career was on the ascent, but Van Etten says revisiting the pain behind those songs night after night was wearing on her. Her idea was to take some time away so she could gain positive life experiences that might inspire a different kind of song. One of Van Etten's non-musical goals was to become a licensed therapist (inspired by interactions she'd had with some of her fans), so she began taking classes once she left the road.
Her hiatus also allowed for more time at home with her partner and giving birth to her first child. Those relationships led to Van Etten writing new music- first as love songs to her partner, then upon revision, to her son. Those songs were transformed again by the results of the 2016 presidential election and a vintage synthesizer Michael Cera left in the practice space they shared in New York.
Van Etten's fifth album, Remind Me Tomorrow, came out in January and Jim and Greg agree, it's one of her best. Van Etten performed "No One's Easy To Love," "Comeback Kid" and "Jupiter 4" for Sound Opinions with her band at Thalia Hall in Chicago.
Go to episode 702
Moby
Moby – who first appeared on the show in 2006 – arrived in New York City in the late '80s as a sober Christian vegan making his way through the nascent underground club scene. A decade later, he was the public face of techno, selling 10 million copies of his album Play and living a life of excess. He wrote all about his early career in his first memoir Porcelain, a book Jim compared to Charles Mingus's Beneath the Underdog as one of the great musical autobiographies. Now his second memoir, Then It Fell Apart is due out soon.
This week Moby speaks with Jim and Greg about the gritty but exuberant heyday of rave culture and house music – and how quickly it all ended. After a string of club hits, Moby confused some critics with the eclectic 1995 album Everything is Wrong, and alienated just about everybody with the hardcore punk-inspired Animal Rights in 1996. But 1999's Play was an unprecedented smash, which led, as Moby explains, to the traditional rise-and-fall story arc of fame and decadence.
Go to episode 699
Sarah Shook
Sarah Shook is an artist who blends country, punk, and rock to create her own unique sound. Shook, along with her band the Disarmers, released Years in 2018, and it ended up being Greg's favorite record of the year! Jim and Greg talk to Sarah at Lincoln Hall in Chicago about her bittersweet lyrics, unvarnished sound, and how relationships shaped much of her last record.
Go to episode 695
Hal Blaine
One of rock's most legendary drummers died this week: Hal Blaine. He was 90 years old. The session drummer and de facto leader of The Wrecking Crew played on 38 chart-topping singles. He played the iconic "Be My Baby" beat for The Ronettes, he recorded with The Beach Boys' on Pet Sounds, he played on number 1 hits for both Frank and Nancy Sinatra, among nearly 40 others. Hal Blaine spoke with Jim and Greg in 2015. He shared stories about Phil Spector, The Beach Boys and more, but one of the best was about recording the drums on Simon & Garfunkel's "The Boxer."
Go to episode 694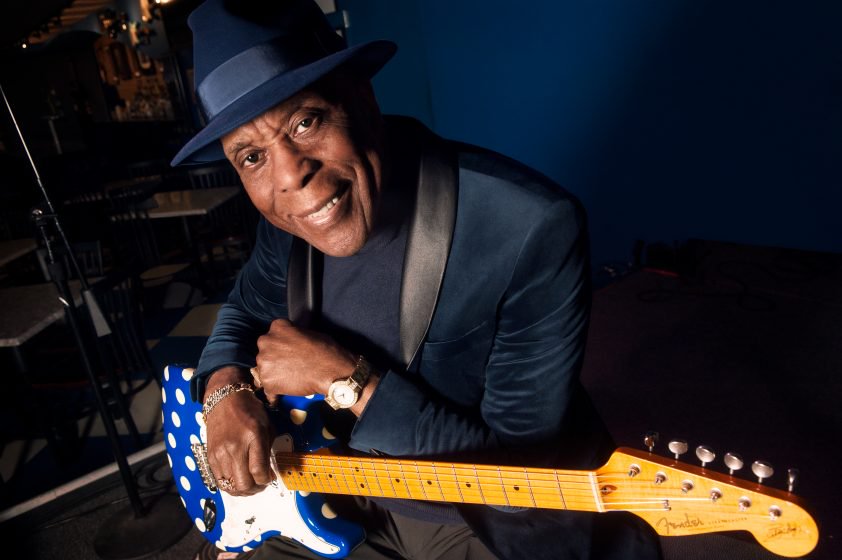 Alligator Records' Bruce Iglauer
Alligator Records is a Chicago blues label that's been around for almost 50 years. While not necessarily a household name, Alligator Records has captured some of the most potent artists Chicago has offered since 1970, and has always championed a raw and unvarnished sound - not unlike punk in that way.
In 1970, 23-year-old Bruce Iglauer came to Chicago to work for the jazz and blues label Delmark Records, but quickly decided to stake out on his own. At a time when the blues was waning in popularity and prominence, Iglauer recognized that there was an audience of young rock fans who were interested in expanding their musical tastes. So, this young white guy assembles a roster of some of the most iconic artists of the genre, people like Albert Collins and Koko Taylor, and gets people excited about the music again. In his recent book Bitten By the Blues: The Alligator Records Story, Bruce Iglauer, along with co-writer Patrick A. Roberts, tells the story of the evolution of Alligator, its landmark artists and its importance in music history.
Go to episode 691
Buddy Guy
Blues legend and fellow Chicagoan Buddy Guy visited the show back in 2007. One thing that makes Buddy Guy's music so unique is his sense of melody. He explains how he will listen to spiritual and gospel music on the radio as inspiration. As Greg states: he's trying to imitate the voices. He learned this from B.B. King. Another musician who inspired Buddy was Guitar Slim. Before seeing Slim play, Buddy didn't know how far he could go with a"strat."Now he is known for his violent, high-energy style. This style wasn't appreciated by his former label Chess Records, but was adored and emulated by British blues fans like Eric Clapton, Jeff Beck and Andy Summers. This week, we revisit the 2007 interview and are also treated to a rare, acoustic performance from Guy and his bandmember at the time, Rick Hall. Listen to the whole interview, featuring two aditional songs, here.
Go to episode 691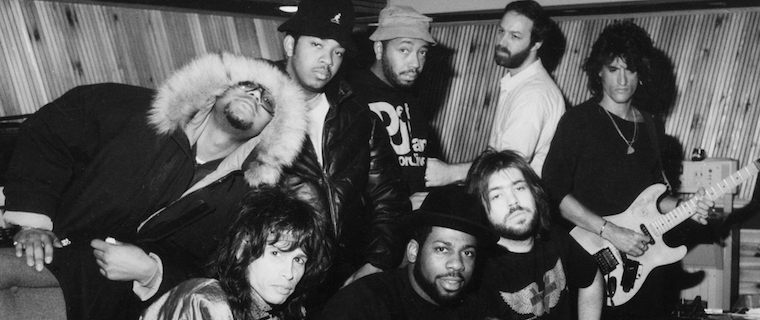 Geoff Edgers
By the mid 1980s, Aerosmith was far from their 1970s heights. Run-DMC, which consisted of rappers Joseph (Run) Simmons and Darryl (DMC) McDaniels, as well as Jammaster J, was a young rap group with two solid selling albums under their belt. But, like nearly all of the hip hop acts of the early '80s, they had yet to cross over into the mainstream.
Run-DMC and Aerosmith… two groups that couldn't be further apart musically, came together in 1986 to record"Walk This Way."The refreshed track ended up being a surprising hit for both bands. Jim and Greg talk with author Geoff Edgers who writes about this collaboration in his new book Walk This Way: Run-DMC, Aerosmith, and the Song that Changed American Music Forever. The book gives the inside story of that collaboration and its lasting influence.
Go to episode 689
The O'My's
Recently, Jim and Greg sat down with a band that Greg highlighted as a Buried Treasure last year: The O'My's. The genre-bending soul duo have become a fixture in Chicago's music scene, collaborating with rappers like Chance The Rapper, Saba, and Vic Mensa. They've also worked with producer and horn player Nico Segal, who previously recorded as Donnie Trumpet. The group started out stylistically indebted to their soul predecessors (down to wearing suits on stage); but with their latest album, 2018's Tomorrow, their sound has developed into something thoroughly modern. The O'My's, made up of singer/guitarist Maceo Haymes and keyboardist Nick Hennessey, joined us for a stripped down performance and conversation at the Goose Island Tap Room.
Go to episode 687
Klaus Voorman
Klaus Voormann was an artist living in Hamburg when he followed the sound of live music down into a cellar one night and happened upon his first live rock and roll show. He saw two acts from Liverpool that night: Rory Storm and the Hurricanes (with Ringo Starr on drums) and an irreverent dance band called The Beatles.
The friendship he struck up with The Beatles would alter the course of his life and prove to be lifelong. When they leapt forward into psychedelia with Revolver, they turned to Voormann to create a fitting cover image. That work won a Grammy and a place of honor (in tattoo form) on Jim's arm. When John Lennon started pulling away from The Beatles, he enlisted Voormann to play bass in the Plastic Ono Band. George Harrison and Starr followed suit, trusting their "A Hard Day's Night" era roommate, Voormann, to provide the bassline on many of their solo albums as well.
His stature as a session bass player grew throughout the 1970's- he can be heard on albums by Carly Simon, Harry Nilsson and Lou Reed among many others. In the early 1980s Voormann added"producer"to his resume through his work with the German band, Trio.
Go to episode 686
Malcolm Gladwell & Bruce Headlam
Bestselling author and New Yorker staff writer Malcolm Gladwell turned his energy to podcasting in 2016 with the show Revisionist History. Now he's launched his second podcast, this one devoted to music called Broken Record. It's a collaboration with legendary music producer Rick Rubin and Gladwell's childhood friend and former New York Times editor, Bruce Headlam. Headlam and Gladwell joined Jim for a discussion about how they bonded over music, their take on the role of the critic in the digital age and the relative artistic merit of YES solo projects.
Go to episode 684