Results for Notorious B.I.G.
interviews
Ernie Isley
Few groups can claim the sustained success of The Isley Brothers, in no small part due to the contributions of our guest Ernie Isley. The Isley Brothers formed in the 1950s as a doo-wop vocal group in Cincinatti, scoring huge hits with the wedding staples "Shout" and "Twist and Shout." They managed to survive the British Invasion, assisted by the incredible playing of their young guitarist Jimi Hendrix. With the addition of two more brothers, Ernie and Marvin, the band started to branch out into funk, soul, psychedelia, rock, and disco. It's this willingness to defy categorization that's led to the Isleys' longevity – the band scored the rare feat of charting in six consecutive decades.
Ernie Isley picked up where Hendrix left off on guitar, creating an unmistakeable tone featured on hits like "That Lady" and "Summer Breeze." But his contributions as a songwriter were just as vital, including a pair of sociallly conscious anthems in 1975: "Harvest for the World" and "Fight the Power," which Ernie penned in the shower before a trip to Disneyland. The Isleys' influence continues to be heard today in the hip-hop realm. Artists from Ice Cube to Notorious B.I.G. to Kendrick Lamar have crafted iconic songs from Isley Brothers samples. The band is now being honored with a massive boxset called The RCA Victor & T-Neck Album Masters (1959-1983), and even that just scratches the surface of the Isleys' long career.
Go to episode 509
Jeff Chang
Jeff Chang, author of Can't Stop, Won't Stop: A History of the Hip Hop Generation, joins Jim and Greg in the studio this week. Jeff, who co-founded the Quannum Label in San Francisco, was on the show previously when his book first came out, and he and our hosts engaged in a discussion of hip-hop's history. Now that Jeff's book has come out on paperback, Jim and Greg welcome him back to the show to discuss where hip-hop is today and where it is going. In order to get a sense of hip-hop's diverse makeup, the three music journalists decide to embark on a geographical tour of the genre, beginning with Chicago and working their way through the United States, and even the U.K.
Go to episode 15
reviews
Duets: The Final Chapter available on iTunes
Notorious B.I.G. Duets: The Final Chapter
Next up Jim and Greg review the latest album by the Notorious B.I.G. They hesitate to say it is"by him,"however, being that the rapper died in 1997. Despite this fact, his music is still being released, and on this go-around, Duets: The Final Chapter, he was even paired with another deceased music icon. Biggie Smalls is the latest in a long line of musicians to continue to do big business after death. Other artists with posthumous releases and commercially successful legacies include Elvis Presley, John Lennon, Johnny Cash and Jimi Hendrix. Biggie's posthumous release is approaching platinum status, but our critics wonder if it really needed to be made. Duets is so chock full of all-star cameo that listeners may wonder who this record is about. For the sheer novelty of it, Duets gets a "Burn It" rating from Jim. For Greg, though, the songs are mediocre and the sentiment insincere. He gives it and the entire posthumous phenomenon a "Trash It."
Go to episode 10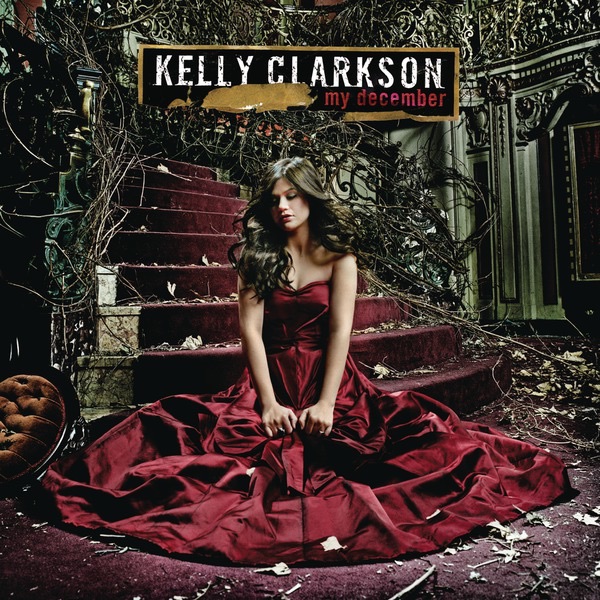 My December available on iTunes
Kelly Clarkson My December
On June 14, Live Nation, or the concert promoters formerly known as Clear Channel canceled American Idol winner Kelly Clarkson's first nationwide arena tour due to"lackluster ticket sales."This event, combined with the firing of her manager and the anticipation of the release of her third album My December has made for a dramatic couple of weeks for the singer. Clive Davis, the music mogul responsible for signing a ton of hit acts ranging from Whitney Houston to Barry Manilow to the Notorious B.I.G., has been overseeing the careers of Clarkson and all the Idol products thus far. But, much to the chagrin of Davis and her label RCA, Clarkson took My December as an opportunity to do her own songwriting and drift away from the guaranteed success of hit-makers like "Since You've Been Gone" scribe Max Martin. Jim and Greg commentate ringside for the blow by blow between America's first pop princess and the pop recording legend. Listening to the album, Greg cannot understand the controversy surrounding the album's pop potential, finding it reminiscent of a post-Dave Coulier Alanis Morrisette. Jim, on the other hand, thanks Clive Davis for trying to spare us the torment of this record. He thinks Clarkson is"at the level of a sub-par Midwestern bar band."Greg gives it a Burn It, and Jim gives it a triple Trash It.
Go to episode 82
50 Cent
Jim and Greg review two of the biggest releases of the year this week starting with Curtis from 50 Cent. This is the third album for the Dr. Dre protégé, who has been very vocal about his violent, drug-filled past. In fact, on this album, he isn't vocal about anything else. Jim is completely disappointed in the rapper's creativity and calls him a"cartoon character."Greg also hoped for more from the man who many thought would fill the shoes left by the Notorious B.I.G. He finds 50 Cent's delivery deadpan, joyless and obnoxious. One track in particular, "Straight to the Bank," made Greg want to stick needles in his ears. We'd say that warrants a double Trash It.
Go to episode 93
featured songs
Featured Songs
Katy Perry, Roar, Roar (Single), Capitol, 2013
Low Cut Connie, Boozophilia, Call Me Sylvia, Self-released, 2012
Bruce Springsteen, Born to Run, Born to Run, Columbia, 1975
Luke Bryan, Kick the Dust Up, Kick the Dust Up (Single), Capitol Nashville, 2015
Bullet for My Valentine, No Way Out, No Way Out (Single), RCA, 2015
The Isley Brothers, Voyage to Atlantis, Go for Your Guns, T-Neck, 1977
The Isley Brothers, Twist and Shout, Twist and Shout (Single), Wand 653, 1962
The Isley Brothers, Shout, Shout (Single), RCA, 1959
Martha & the Vandellas, (Love is Like a) Heat Wave, Heat Wave, Gordy, 1963
The Isley Brothers, Testify (Pts. 1&2), Testify (Single), T-Neck, 1964
The Beatles, All My Loving, With the Beatles, Parlophone, 1963
The Isley Brothers, Move Over and Let Me Dance, Pt. 2, In the Beginning, T-Neck, 1971
The Isley Brothers, I Turned You On, I Turned You On (Single), T-Neck, 1969
The Isley Brothers, It's Your Thing, It's Our Thing, T-Neck, 1969
Stephen Stills, Love the One You're With, Stephen Stills, Atlantic, 1970
The Isley Brothers, Who's That Lady, Who's That Lady (Single), United Artists, 1964
The Isley Brothers, That Lady, Pts. 1 & 2, That Lady, Pts. 1 & 2 (Single), T-Neck, 1973
The Isley Brothers, Summer Breeze, 3 + 3, T-Neck, 1973
The Isley Brothers, Hello It's Me, Live It Up, T-Neck, 1974
The Isley Brothers, Fight the Power (Pts. 1&2), The Heat Is On, T-Neck, 1975
The Isley Brothers, Harvest for the World, Harvest for the World, T-Neck, 1976
The Supremes, Love Is Here and Now You're Gone, Love Is Here and Now You're Gone (Single), Motown, 1967
Bone Thugs N Harmony, The Crossroads, E. 1999 Eternal, Ruthless, 1995
Notorious B.I.G., Big Poppa, Ready to Die, Bad Boy, 1994
Kendrick Lamar, i, To Pimp a Butterfly, Interscope, 2015
The Isley Brothers, Don't Say Goodnight (It's Time for Love) (Pts. 1&2), Go All the Way, T-Neck, 1980
Titus Andronicus, I Lost My Mind (+@), The Most Lamentable Tragedy, Merge Records, 2015
Titus Andronicus, Stranded (On My Own), The Most Lamentable Tragedy, Merge Records, 2015
The Faces, Ooh La La, Ooh La La, Warner Bros., 1973
Kurt Vile, Lost my Head there, Lost my Head there (Single), Matador, 2015
Brenda Holloway, Operator, Operator (Single), Tamla, 1965
Royal Headache, High, High, What's Your Rupture, 2015
The Lumineers, Ho Hey, The Lumineers, Dualtone, 2012
Joe Cocker, With a Little Help From My Friends, With a Little Help From My Friends, A&M, 1969
Neil Young, Rockin' in the Free World (Live on SNL), Freedom, Reprise, 1989
Go to episode 509
Featured Songs
The Kingsmen, Louie, Louie, Kingsmen in Person, Wand, 1963
TV on the Radio, Halfway Home, Dear Science, 4AD, 2008
John Denver, Rocky Mountain High, Rocky Mountain High, RCA, 1972
Coldplay,"Viva La Vida,"Viva la Vida or Death and All His Friends, Parlophone 2008
Joe Satriani, If I Could Fly, Is There Love in Space?, Epic, 2004
Ronald Selle, Let It End, N/A, N/A, 1975
The Bee Gees, How Deep Is Your Love, Saturday Night Fever, RSO, 1977
George Harrison, My Sweet Lord, All Things Must Pass, Apple, 1970
The Chiffons, He's So Fine, Laurie Golden Goodies, Laurie, 1967
John Lee Hooker, Boogie Chillen, Meet Me Around the Corner, Past Perfect Silver Line, 1935
ZZ Top, La Grange, Tres Hombres, London, 1973
The Ohio Players, Singing in the Morning, Pain, Westbound, 1971
Notorious B.I.G., Ready to Die, Ready to Die, Big Beat, 1994
John Fogerty, Vanz Kant Danz, Centerfield, Warner Bros., 1985
Creedence Clearwater Revival, Run Through The Jungle, Cosmo's Factory, Fantasy, 1970
Madlib, Dillalade Ride (Contact High), Beat Konducta, Stones Throw, 2009
Heartless Bastards, The Mountain, The Mountain, Fat Possum, 2009
Heartless Bastards, Out At Sea, The Mountain, Fat Possum, 2009
Go to episode 166